Metal Enforced Truck Flooring Plywood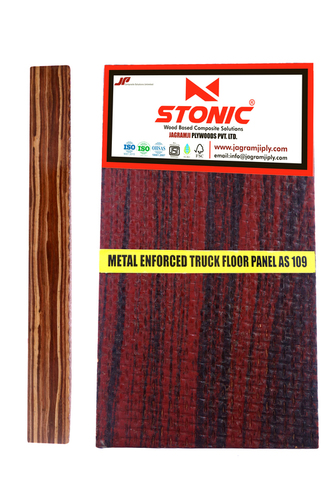 Metal Enforced Truck Flooring Plywood
Price And Quantity
Product Specifications
Customized as per Order

Brown
Product Description
STONIC Truck Floor Panels is a wood based laminated panel with wire mesh pattern intended for extra heavy use. We offers an excellent solution for truck and trailer flooring as well as for other technical flooring applications.
The base panel is made with high quality dried veneers and layers of imported birch veneer bonded with viscous Phenol Formaldehyde Resin conforming to IS 848. Our Phenolic resin cross-bonded weather resistant gluing according to EN 314-2/class 3. To maintain the rigidness of top surface we use high GSM upto 250 g/m2 Black / Dark brown overlay Phenolic resin impregnated multilayer laminate with wire mesh pattern.
The reverse side of panel is normally smooth and covered with impregnated overlay. We provide an Acryl-based paint for edges protection to minimize the chance of moisture absorption. We use two layers of steel wire mesh in between of veneers to balance the veneers stress and provide a equilibrium top surface.
Uses :
STONIC Truck Floor Panel is an ideal panel for transport applications that require highly wear-resistant and rough surfaces:
Vehicle floors (trailers, trucks, lorries, vans etc.)
Railway wagon floors
Ship decking
Transport platforms
Advantages :
Extremely durable and weather resistant overlay
Highly slip resistant wire mesh surface which ensures excellent loading safety
Light and dimensionally stable
Strong and rigid
Withstands impacts and other forms of bruising
Easy to machine and fasten using conventional woodworking tools and fasteners
Easy to clean
Available Dimensions :
Standard thickness : 25mm and above
Standard Size : 2440 x 1220 mm.
Customize sizes are also available as per customer's requirement.
Properties :

S.
NO.

TEST DESCRIPTION

SPECIFIED REQUIREMENT

OBSERVATION

Dimensional Requirement

1.

Length
Width
Thickness
Squareness
Edge Straightness

( + ) 6 mm., ( - ) 0 mm.
( + ) 3 mm., ( - ) 0 mm.
< 6 mm + 10 %, ≥ 6 mm + 5 %
0.2 %
0.2 %

With in tolerance limits

Physical Parameters

2.

Density

0.95 gm/cm²

0.95 gm/cm² and above

3.

Moisture Content

5 - 15%

10.00 %

4.

Bond Quality Test as per IS 848
Boiling - Drying @ 60 ± 2°c
4 Hrs. - 20 Hrs.
Three Cycles

No Visible delamination in glue line and plywood face
No forcible separation and fiber should be adhered between plies

Satisfactory


Satisfactory




5.

Breaking Strength
250 x 50 x Thickness(mm)

Along - 550kgf
Across - 400kgf

1050 kgf
850 kgf

6..

Static Bending Strength
Along the grain M.O.E.


Across the grain M.O.E.


Along the grain M.O.R.


Across the grain M.O.R.


Avg. -7500N/mm²
Ind. - 6700N/mm²

Avg. - 4000N/mm²
Ind. - 3600N/mm²

Avg. - 50
Ind. - 45

Avg. - 30
Ind. – 27


12500 N/mm²
9500 N/mm²

8500 N/mm²
8200 N/mm²

82.00 4N/mm²
68.00 N/mm²

65.00 N/mm²
55.00 N/mm²

7.

Tensile Strength

Along - 55 MPa
Across - 50 MPa

95.00 MPa
85.00 Mpa
Trade Information
1000 Per Month

10-15 Days
Contact Us
B No 126 , Badi Majra Yamunanagar Haryana India +918037304218
Phone :+918037304218